Storing Embossing folders:
I received this rectangular box as a gift years ago for storing clear stamps when I was first getting started in stamping, now I just have way to many for this to hold. But I've found a great use for it. It's great for holding cuttle bug embossing folders. See below.
There's a binder that holds pocket sleeves. It comes with a dozen or so. And I put a coloured paper in between the embossing folder so I can see what the design is and put one in each sleeve. It works great.
I believe these boxes can still be purchased at Michaels Craft Stores.
Storing Clear stamps:
Another way to store stamps is this handy unit from Ikea, it's called an Alex. I'm sure it's the only English name in the whole Ikea store :)
Its got nice sliding drawers, that I label with certain themes for my stamps
Trust me it holds A LOT!!!
I got these in the kitchen section. I can't remember what their called but I'm pretty sure their a towel rack, and they come in a variety of sizes.
Rubbermaid Mini Drawers
Close to My Heart small organizer
Paper storage:
I found the best way to store my paper was two different ways. Random's, and card stock together in a self built wire rack from walmart. And the rest in themed projects in Ikea wire drawers. I'll explain:
You can buy the wire rack storage system it looks like this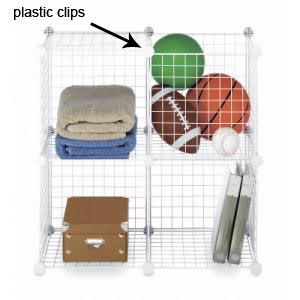 except you will be using it in a different way.
For this project you will need
1 package Zip/Cable Ties (available at any home improvement store) cost: $1-2
1 wire cutter or seriously heavy duty scissors
Start by throwing out the weird little white plastic clips that come with the cubes. You won't be needing these.
Build a basic cube (leaving one side open as shown above) by attaching the grids together using your zip ties. Make sure the little square nubbies are facing towards the outside of your cube so they )
don't catch on the paper. (photo below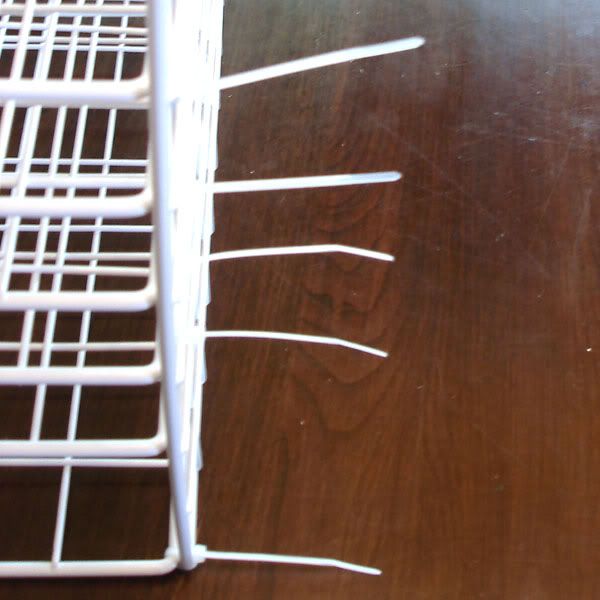 Next take the remaining white shelves and slide them into your cube and attaching them at 1 inch intervals where the grid already exists. If you need a larger slot for some paper sets just make it a 2 or 3 inch interval instead.
Use your wire clippers to remove excess plastic end from zip ties.
Fill with paper sorting by colour, manufacturer or whatever makes you happy!
Here's a picture showing my Ikea drawers found in the laundry section of Ikea storage systems. They work great. Easy glide drawers, come in different sizes so make sure they fit your paper.
Slip them into a CD jewel case and then slip your cased into a basket so you can easily thumb through them. You can also use clear DVD cases for larger stamp sets.
For organizing your photos I use plastic envelopes that have dividers in them for each project or theme. You can get these at any dollar store. Or get the bigger ones that measure up to 12X12 for storing the paper to go with the project.
Everybody has there own way of organizing ribbon, I like to keep mine in clear glass jars in a variety of color's, this way I can see what I have and the ribbon doesn't get dusty.
Photo boxes are great for storing just about anything, I like to use mine for all my specific punches. So for all my Martha Stewart punches I put them in these boxes. You can also store photos but the boxes are a little to wide so photos don't stand up very good in them. Some people store little jars of emblishments and buttons in them as well. You can get these at Michael's store and they usually come on sale.
For storing stickers I use binders, just the regular kind you buy for school every year and then get the plastic page protectors and slip your stickers in them and it holds everything. You can get different sizes of page protectors for different size stickers, even the one's that hold hockey cards are good for small stickers. I have 5 different binders that hold different themes of stickers like Christmas, Flowers and bugs, Boy stuff, Occasions like birthdays ect. And to tell what;s in each binder you can label it on the side or I decorated mine with paper and a few stickers.
Organizing Ideas:
Need to organizes those ideas you find in magazines so you can actually go back and use them later? Don't have room to save all the old magazines? I have a system that works great. You could use it, too, or a more simplified system.
First, I like to fold the magazine pages that I want to keep. Then, I go back later and tear them out. While watching TV, I cut out (quickly, not neatly) the layouts and ideas that I like and adhere them in a binder of ideas. I just put them on binder paper in different categories. The categories I use are cards, layouts and projects. Within the cards section, I break it down into thank you cards, birthday cards, and holidays. In the layout section, I break it down by layouts I like in general, and the ones that I liked because of a specific technique. I actually go back and label the techniques for those, so I remember. Then, I save any pages that refer to a contest or website that I want to check out and keep those pages by my desk until I'm done with them.
After all that, I don't mind throwing away the magazine because I have pretty much scoured it for all that I wanted!